Wellness Accelerated™
Jumpstart your health and longevity journey with BodStim
BodStim is a whole-body bioelectric bodysuit designed to augment the effects of exercise to help you achieve better results in less time.
BodStim increases muscle contractions in all major muscle groups during training. With BodStim, users can achieve an increase in output and improved results in the range of 30% to 50%, compared to the same workout without electrostimulation.
It's the only exercise enhancement wearable with patented stimulation sequences to control the release of two documented muscle-building proteins – Klotho and Follistatin.
Healthy Aging and Longevity
As we age, we lose muscle mass, which is essential to long-term wellness and injury prevention. BodStim helps people increase their muscle mass quickly as they build strength, flexibility, and cardiovascular fitness.
The addition of Klotho to the BodStim signaling program differentiates it from any other exercise enhancement product available. More than 3,400 published studies on the Klotho protein document its impact on human health, longevity, and disease resistance.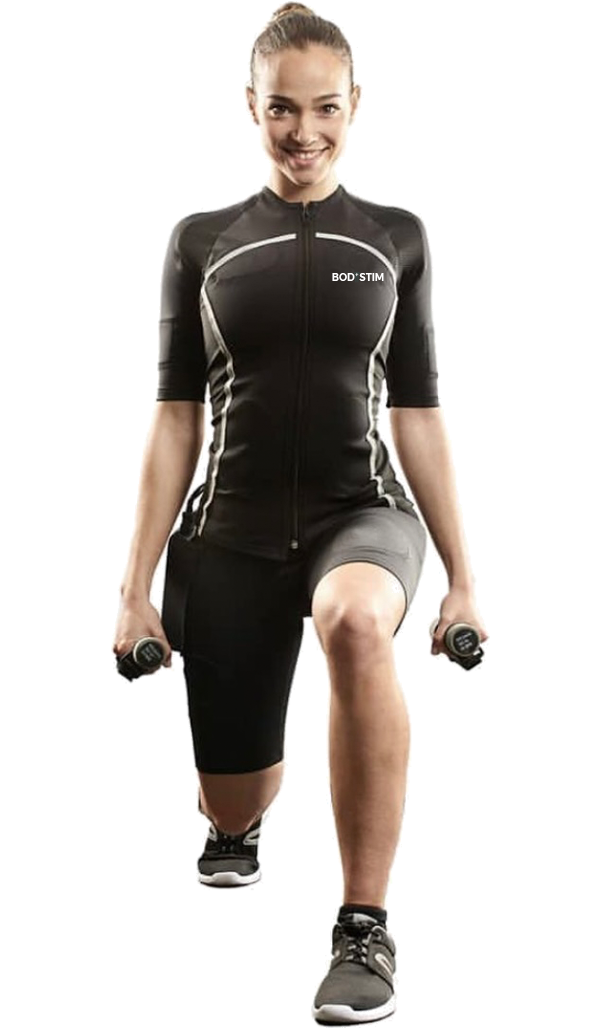 Three configurations of BodStim bioelectric suits are available:
Designed for personal use
Comfortable stretch two-piece bodysuit – similar to a cycling suit
Electrodes are placed at strategic locations throughout the suit to send muscle contraction and bioelectric signals
Cables are integrated into the bodysuit's comfortable stretch fabric and do not touch the skin
Simultaneously works multiple muscle groups: extensors, gluteals, abductors, hamstrings, abdominals, obliques, quadriceps, calves, biceps, and triceps.
A small, portable stimulator fits snuggly in a connector pocket on the pants
Programs are pre-loaded to run at the touch of a button
Multiple sizes available – XXS to XXL
Designed for use by multiple people in training environments and wellness spas
Clip-on vests and trousers are available in a wide range of sizes to fit various body shapes – XXS to XXL
The Pro suit is worn over BodStim undergarments
Electrode placement can be adapted to each client's body shape
Small, portable stimulator fits snuggly in connector pocket
A trainer can control the wireless program via a mobile app
The Pro suit is sanitized after each use
BodStim Pro can be washed up to 10,000 times
Designed for personal use
Yoga-type long pants for personal use
Designed to tone and reshape the body
Simultaneously works multiple muscle groups
A small, portable stimulator fits snuggly in a connector pocket on the pants
Programs are pre-loaded to run at the touch of a button
Multiple sizes available
U.S. FDA 510K 181955 Market Clearance
Indications for Use
BodStim by Wiemspro is intended to stimulate healthy muscles in order to improve or facilitate muscle performance. The BodStim by Weimspro is not intended to be used in conjunction with therapy or treatment of medical diseases or medical conditions of any kind. None of BodStim by Weimspro training programs is designed for injured or ailing muscles and its use on such muscles is contraindicated.
BodStim by Wiemspro is a machine with electronic muscle stimulation based on EMS technology. Regarding its use, the device is specifically designed as an addition to other sports and for training muscles. It must be used for only healthy muscles and clients, not for rehabilitation purposes.
BodStim by Wiemspro electrical impulses allow the triggering of action potentials on motoneurons of motor nerves (excitations). These excitations of motoneurons are transmitted to the muscle fibers via the motor endplate where they generate mechanical muscle fiber responses that correspond to muscle work. Depending on the parameters of the electrical impulses (pulse frequency, duration of contraction, duration of rest, total session duration), different types of muscle work can be imposed on the stimulated muscles (with varying muscle based protein expressions created such as Klotho and Follistain)
Any other use other than that mentioned above will be for Investigational Use Only and requires Institutional Review Board (IRB) and Ethics Committee advance approval and may require FDA clearance ahead of enrollment with an approved patient consent form and clinical protocol. Such studies will also require proper controls in place including a secure database and an assigned Principal Investigator and may requite an independent Data & Safety Monitoring Board (DSMB) with authority to discontinue enrollment at any time. All clinical sites must meet strict established. minimum criteria to enroll patients and must be trained and be ready to implement properly Adverse Event Reporting, when needed.